Behind 7 Trends Shaping Student Housing on College Campuses
Student housing has changed dramatically on college campuses. Slowly at first, with larger campuses introducing new living arrangements that mirror today's diverse society, requiring laptops, and adopting universal Wi-Fi, and more rapidly in recent years as advancing technology has transformed the way we live, work, play, and communicate.
Commonly abbreviated to Gen Z, Generation Z (or the iGeneration) follows Millennials onto college campuses. This generation brings with them a unique set of expectations and experiences, having been influenced by widespread usage of mobile devices and modern technology from a young age. With major influences ranging from social media sites and apps to widespread discussion about green design and the environment, these students arrive at college with a different set of privacy boundaries and lifestyle preferences than any generation before.
Institutions of higher education are challenged by the need to create residential facilities that support recruitment and retention of high caliber students, facilitate socialization and engagement, and provide a foundation for academic success. We see the following trends influencing student housing on college campuses today and into the future.
Increased privacy
Privacy is becoming a highly sought after amenity, with the majority of freshmen coming to campus never having shared a bedroom. Students want to choose how and when they socialize, and while the shared room is unlikely to completely disappear, colleges and universities are increasingly including a range of privacy levels from the number of students to a room to the number of students sharing a bathroom. Today, communal bathrooms are rare in new residence halls. Much more typical is the suite layout, with two students sharing a bathroom. In Penn State's new Chace Hall, "spa bathrooms" with private toilet and shower areas were provided to maximize student comfort.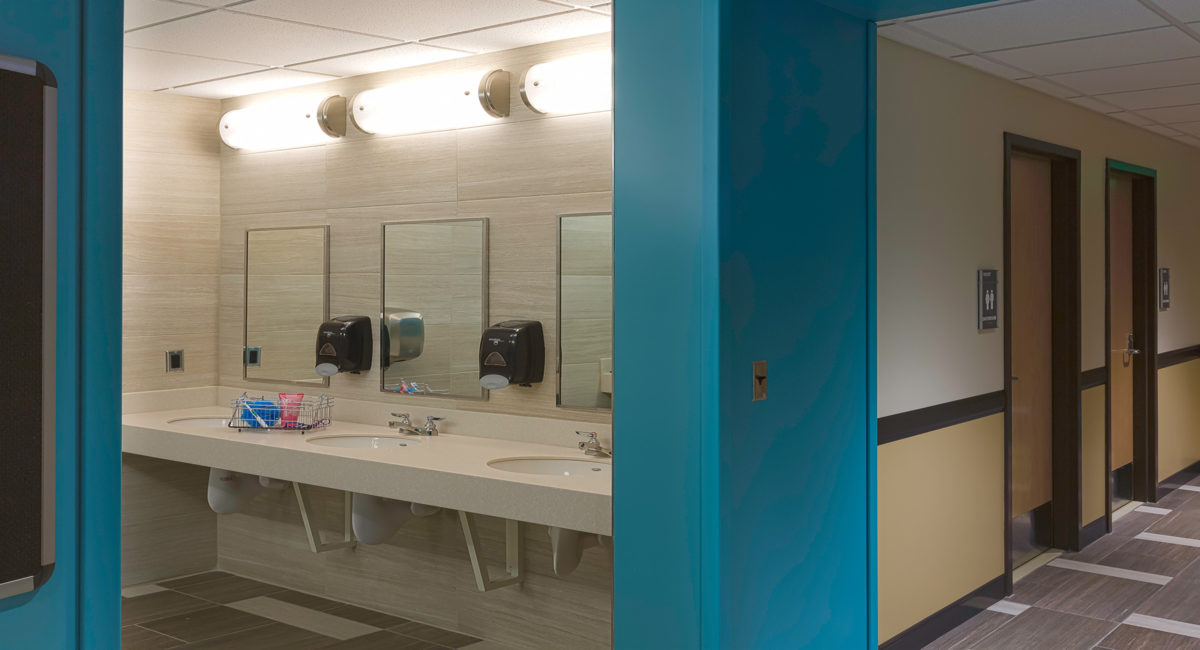 They're not 'dorms' anymore
Take Clemson's Douthit Hills Student Community, currently under construction and slated to open in 2017. This walkable, amenity-filled community more closely resembles an urban, mixed-use apartment complex than what we once called a dormitory. Today's college students embrace housing facilities that are lively, engaging, state-of-the-art, and sustainable. On-campus amenities look more and more like off-campus amenities to appeal to students, featuring outdoor pools, in-suite laundry, and hip coffee shops. Whether it's the amenities or plentiful, varied spaces for entertainment and study, this trend is reflective of the importance of choice to these students.
Diverse unit types appeal to different living preferences
Consistent with the 'choice' theme introduced above, successful student residence facilities in 2016 offer a diverse range of unit types to satisfy many different living styles. By blending a variety of one to four bedroom units within a building, this design strategy benefits both the students and the institution – offering students the choice to live as they like, and offering the school increased flexibility in the future as the campus population changes. Perhaps the most important element of this trend, designing with varied unit and room types also provides universities with the opportunity to customize a student housing methodology that aligns with their campus identity and delivers the ideal social and academic experience based on their personal life choices.
Innovative, flexible common spaces
Colleges and universities create common spaces with specific objectives in mind: to encourage social engagement, improve retention, help students build relationships and make new connections, and ultimately foster academic success. Precious spaces within a residence hall, common areas have to be flexible and desirable – students must want to visit them. To encourage this, design concepts feature lounges, study spaces, kitchens, and laundries that are equipped with comfortable furniture that can be easily reconfigured or moved to accommodate different types of events, both impromptu and planned. Green screens, pool and ping pong tables, maker spaces, innovation incubators, and faculty-in-residence all indicate that today's college housing differs drastically from the mid-twentieth century residences that many schools must now replace or renovate.
Living-learning communities enhance student life experience
The concept of the living-learning environment has taken hold and can range widely, customized to suit unique campuses and student populations. Studies are showing that informal settings are better for college-level learning than the traditional academic setting alone, driving growing interest in a trend we have been presenting to clients since 2007. These communities may range from a true, mixed use development with classrooms and residential units for both students and faculty in the same building, or by infusing collaborative study areas throughout a predominantly residential building to provide students with easily accessible study amenities. In the case of the new West Grace & West Broad Residence Complex at Virginia Commonwealth University, the living-learning environment is shaped to promote a spirit of entrepreneurship driven by its Collaborative Incubator. The live-and-learn community model fosters higher levels of academic engagement and success and enhances the undergraduate experience, aiding in recruitment and retention.
Going green
It isn't just about LEED anymore. GenZ has grown up in an era of continuous discussion of civic responsibility and the importance of protecting our environment. Sustainability is a lifetime learning tool, and colleges and universities are leveraging cutting edge green features and technologies to influence student behavior, promote wellbeing, provide educational opportunities, and enhance the overall curriculum. Residence halls have a unique opportunity to serve as sustainability learning centers – buildings that actively teach in addition to providing housing. From green roofs to outdoor classrooms to ecologically-friendly design choices such as LED lighting, low-flow shower heads and toilets, and high efficiency washing machines, the spaces in which students live impact their awareness and understanding of sustainability.
Wi-Fi connectivity – and the importance of outlets
Electronic devices are a huge part of the student lifestyle. From smart phones to iPods and iPads to Kindles and laptops, students (and faculty) have an expectation that Wi-Fi connectivity will be available across campus for everything from study to socialization. For colleges and universities, providing high speed service is critical to a positive student and faculty experience and to their ability to work efficiently. Equally important is the availability of electrical outlets to support the mobile device craze. For example, you'll rarely find a Starbucks without a blend of people plugged in and reading or chatting. By providing student life spaces that leverage the most successful elements of comparable commercial spaces, colleges and universities have a recipe for success.
As Clark Nexsen's student life practice looks to the future, our experts consider trends appearing in other markets to evaluate how they have potential to impact student preferences and shape better outcomes for our college and university clients. We partner with our higher education clients to create dynamic student life communities that are conducive to continuous intellectual growth, socialization, engagement, unity, and overall student success.